**Disclosure**: Amex Bank of Canada is not responsible for maintaining or monitoring the accuracy of information on this website. For full details and current product information click the Apply Now link below. My blog contains referral or affiliate links. I receive a small commission at no additional cost to you. Thank you for your continued support.
I didn't think the American Express Cobalt Card could get any better, glad I was wrong. The best credit card in Canada just got better, with an increased welcome bonus of up to 45,000 Membership Rewards-Select (MRS) points. A minimal spend of $500 each month will continue to earn 2500 MRS points each month, which adds up to 30,000 MRS points each year. Additionally, those that apply by May 5, 2021, can earn an added welcome bonus of 15,000 MRS points (with $3000 spend in the first three months of cardmembership), bringing the annual welcome bonus total to 45,000 MRS points – the highest ever the card has seen. Here's a closer look at the Amex Cobalt is also the highest earning Marriott and Aeroplan card in the market.
American Express Cobalt Card Review – Apply Now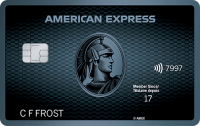 Monthly Fee: $10/month
Welcome Bonus: Earn up to

45,000 Membership Rewards Select (MRS)

points — 2500 per month with min. $500 spend,. Plus, an additional Welcome Bonus of 15,000 Membership Rewards® points with spend of $3,000  in your first 3 months of Cardmembership, those that apply by

May 5, 2021

Earning Rate:

5x the points on eligible eats and drinks in Canada, including groceries and food delivery
2x on Travel and Transit (including flights, hotels, taxis, gas, ride sharing, and transit passes)
1x on all other purchases.
Other Key Benefits:

Amex Special Offers (perks, bonus rewards)
The Hotel Collection ($100 USD hotel credit at participating properties on qualifying room charges and room upgrade with min. 2 night booking made directly on American Express travel portal)
Extensive Insurance coverage for travel and shopping
Redeeming MRS points


Fixed Points Travel Program: A short haul return flight in economy class (15,000 points) can be had with a spend of $3000 on the American Express Cobalt Card or a return trip to Europe in Business class (140,000 points) with $28000 in card spend. These are incredible returns with daily spends on a card.
 Statement Credits towards eligible purchases
Convert Cobalt MR points to Marriott at 5:6 or Hilton at 1:1
Detailed list of benefits and perks of the card are listed here
American Express Cobalt Card – Best Aeroplan and Marriott points earning card in Canada
Cobalt MR points don't transfer directly to airline miles, but they do transfer to Marriott at 5:6 ratio. Since the card can earn 5 points on the dollar (5x earn category), or 6 Marriott points per dollar. That's a better rate than any other card in the market (Marriott Bonvoy Amex cards come the closest with 5 points/$).
Further, members can convert from Cobalt MR⇒Marriott⇒Aeroplan (or Avios). Marriott adds a 5K bonus on every 60K points converted, which means converting 60K Marriott can yield 25K Aeroplan miles. Going from MRS⇒Marriott⇒Aeroplan yields a rate of 2.5 Aeroplan miles/$, which is incredible!
Take Away
If I assume a monthly household expense of $2500 ($1000 in groceries, $500 in travel and transit, and $500 in all other expenses), the card yields 6500 MR points each month. Or 123,000 MR points a year (with 45,000 Welcome Bonus), an incredible return! American Express Cobalt Card continues to be a must have for all Canadians, for its ease of earning quick points and great returns! In my opinion, still the best credit card in Canada.
Title Image Source: American Express